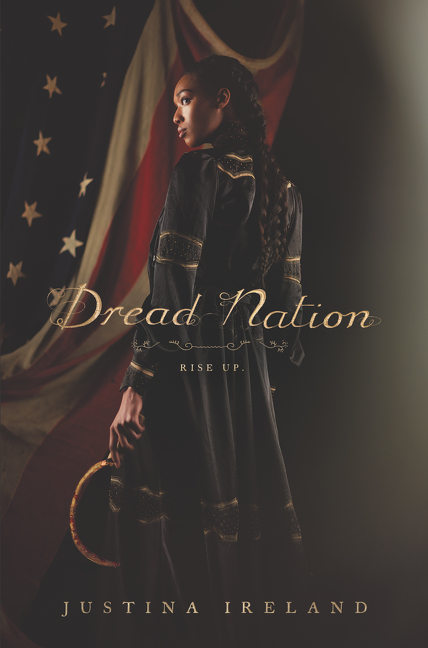 Dread Nation
eBook - 2018

New York Times Bestseller! At once provocative, terrifying, and darkly subversive, Dread Nation is Justina Ireland's stunning vision of an America both foreign and familiar—a country on the brink, at the explosive crossroads where race, humanity, and survival meet. Jane McKeene was born two days before the dead began to walk the battlefields of Gettysburg, Pennsylvania—derailing the War Between the States and changing the nation forever. In this new America, safety for all depends on the work of a few, and laws like the Native and Negro Education Act require certain children attend combat schools to learn to put down the dead. But there are also opportunities—and Jane is studying to become an Attendant, trained in both weaponry and etiquette to protect the well-to-do. It's a chance for a better life for Negro girls like Jane. After all, not even being the daughter of a wealthy white Southern woman could save her from society's expectations. But that's not a life Jane wants. Almost finished with her education at Miss Preston's School of Combat in Baltimore, Jane is set on returning to her Kentucky home and doesn't pay much mind to the politics of the eastern cities, with their talk of returning America to the glory of its days before the dead rose. But when families around Baltimore County begin to go missing, Jane is caught in the middle of a conspiracy, one that finds her in a desperate fight for her life against some powerful enemies.  And the restless dead, it would seem, are the least of her problems.
Searching for more content…
Publisher:
[S.l.]: HarperCollins, 2018.
---
Opinion
From Library Staff
List - YA Books to Celebrate Black Authors
CaitlinG_OshLib
Jun 08, 2020
Dread Nation is an emotionally intense zombie apocalypse novel that integrates historical fantasy and horror into an intricate plot.
---
From the critics
---
Community Activity
Summary
Add a Summary
SPL_Melanie
Feb 09, 2021
In this alternate history/horror novel, the dead arise at the Battle of Gettysburg and begin preying on the living. This zombie apocalypse ends the War Between the States as both sides band together to fight this new threat.
But then the Native and Negro Education Act is passed, requiring certain children to attend combat schools to act as soldiers against the zombie arrivals. Jane McKeene is one of these children, and her time at Miss Preston's School of Combat in Baltimore is now almost up; she's ready to be a bodyguard for a rich socialite.
As she readies herself for a new life, she discovers a nefarious plot by Baltimore's elite…and is sent out West to a compound aiming to re-establish the society of the Old South. She must use her training and her personal grit to fight back against the racist leaders of the compound – in addition to zombies, of course!
With action, zombies, strong female leads, and a set-up that allows Ireland to explore the real-life trauma of chattel slavery and residential schools in a new way, this powerful and engaging novel is a must-read. Full of social commentary, with great lead and supporting characters, and a powerfully drawn setting, this is a thought-provoking and exciting read that should grab you. A sequel, Deathless Divide, has just been released if this first book leaves you wanting more of Jane's story.
CMLibrary_lvallejo
May 02, 2018
Parents need to know that Dread Nation is alternative-history zombie thriller that takes place after the U.S. Civil War ends not with the South's surrender but when the dead begin to rise up on the battlefields of Gettysburg and Chancellorsville. Author Justina Ireland explores what would've happened had zombies (or shamblers, as they're called in the book) stopped the war in order for Americans to come together to battle the undead (or force black and indigenous folks to fight them). Like Pride and Prejudice and Zombies, the book features a good deal of violence, as is appropriate to a story about zombie slayers (lots of deaths either from the undead eating live humans, or from humans shooting, stabbing, decapitating the undead, or people beating, stabbing, and shooting one another). There are also some racial slurs of the era ("darkie," "colored," "pickaninny," "coon," etc.) in the story. Parents and teens who read the book together can discuss a host of socio-political and historical issues, from institutional racism and white supremacy to shadism, passing, educational segregation, well-intentioned but ineffective white benevolence, and more.
Notices
Add Notices
There are no notices for this title yet.
Explore Further
Recommendations
Subject Headings

Loading...